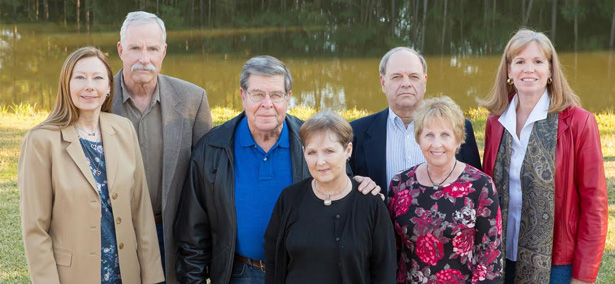 The Texas War Memorial Board with their spouses from left to right:  Board member and spouse Major General (Retired) Joy Stevens, Chair Colonel (Retired) James Stryker, Board member Jim Swenke and Deanna Swenke, Board member Joe Beatty and Patty Beatty, Board Member Brigadier General (Bvt) Constance McNabb.  Not in the photo are Colonel (Retired) Sandy McNabb and Board Member Norm Kober.   
Our Mission
Our mission is to build, place and provide an endowment for future maintenance and upkeep of "The Price of Liberty" Memorial Statue at the Texas Capitol, by late 2017.  The monument is to honor service members from all branches of service, and their families, who served in the Global War on Terror.  An auxiliary goal is to capture and archive the photographs, videos and stories of veterans, service members and families online as a "Living Memorial" of Texans affected by the war after September 11, 2001.  
Note:  Legislation requires that we also provide an endowment for future maintenance and upkeep of the monument. The project is to be at no cost to Texas taxpayers. Our goal is only collect the funds we require to complete the project but in the event we raise funds in excess of our goal, we will donate those funds to the Texas National Guard Family Support Foundation, who provided our §501(c)(3) status.
We are proud to say that we have no paid employees so that your donations go toward building the monument.  All people involved in this project believe in it and are willing to give their time to honor all Veterans, Service Members and their Families that have served since September 11, 2001. 
| | | |
| --- | --- | --- |
| Texas War Memorial Chair, James Stryker |   | Our parent §501(c)(3) organization, Texas National Guard Family Support Foundation http://www.txngfoundation.org/ |